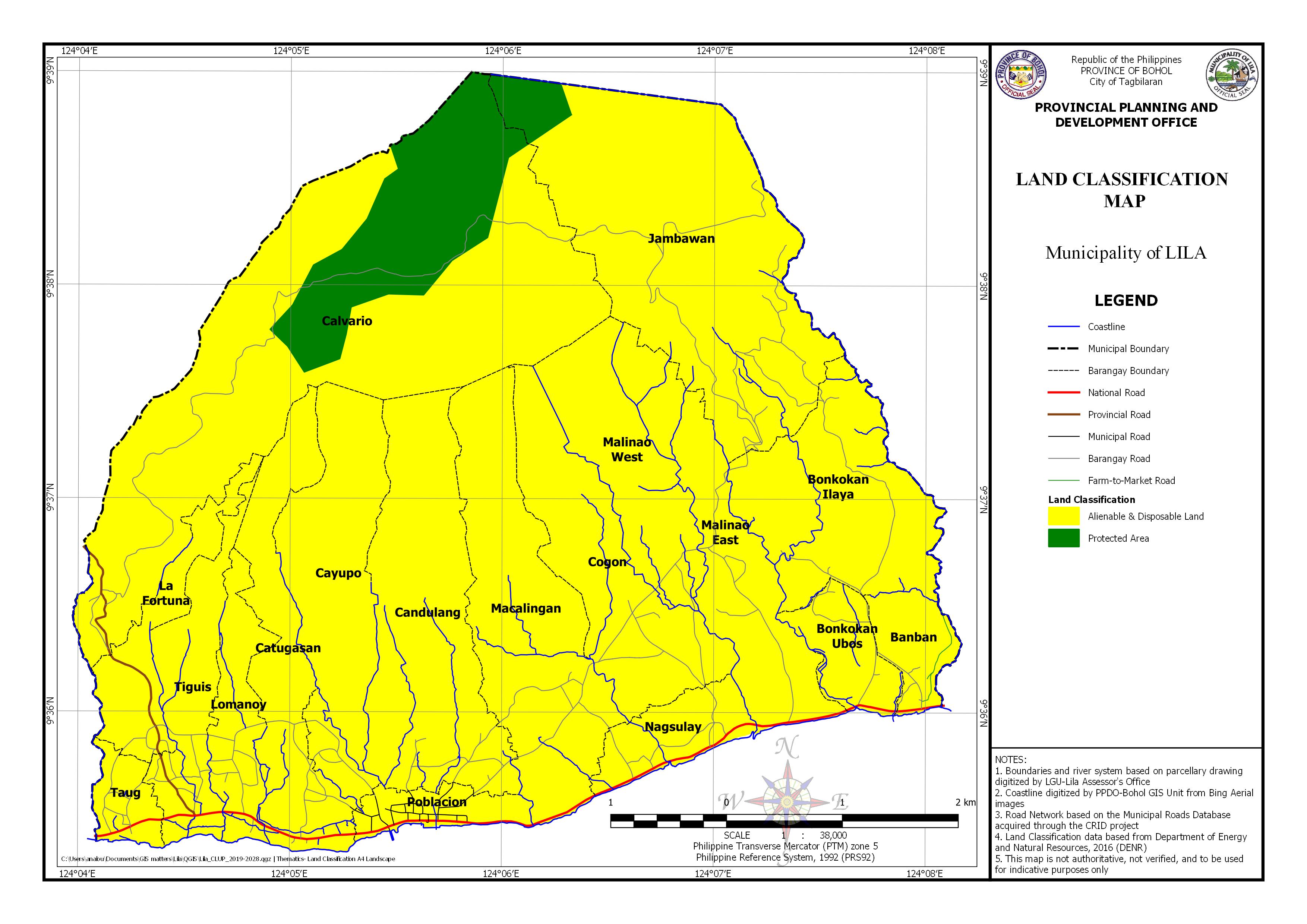 Download in PDF and JPG format
The map shows the Land Classification of the Municipality of Lila which classified as Alienable and Disposable Land and Protected Area.
Land Classification data based on Department Environment and Natural Resources, 2016 (DENR). This map is not authoritative, not verified, and to be used for indicative purposes only.
AREA EXPOSED TO LAND CLASSIFICATION BY BARANGAY
| | | | | | |
| --- | --- | --- | --- | --- | --- |
| Barangay | Area | Area Exposed to Alien and Disposable Land | | Area Exposed to Protected Area | |
| | (hectares) | (hectares) | Percentage | (hectares) | Percentage |
| Banban | 54.651 | 54.532 | 99.783% | | |
| Bonkokan Ilaya | 235.481 | 235.481 | 100.000% | | |
| Bonkokan Ubos | 66.327 | 66.323 | 99.994% | | |
| Calvario | 806.148 | 597.814 | 74.157% | 208.335 | 25.843% |
| Candulang | 293.490 | 293.490 | 100.000% | | |
| Catugasan | 171.121 | 171.049 | 99.958% | | |
| Cayupo | 217.302 | 217.302 | 100.000% | | |
| Cogon | 207.025 | 207.025 | 100.000% | | |
| Jambawan | 499.561 | 472.683 | 94.620% | 26.880 | 5.381% |
| La Fortuna | 90.095 | 90.095 | 100.000% | | |
| Lomanoy | 85.477 | 85.451 | 99.969% | | |
| Macalingan | 283.497 | 283.388 | 99.962% | | |
| Malinao East | 194.783 | 194.247 | 99.725% | | |
| Malinao West | 150.937 | 150.937 | 100.000% | | |
| Nagsulay | 70.907 | 70.415 | 99.307% | | |
| Poblacion | 47.646 | 47.178 | 99.018% | | |
| Taug | 39.564 | 39.530 | 99.913% | | |
| Tiguis | 119.020 | 118.941 | 99.934% | | |
| Total | 3633.033 | 3395.881 | 1766.338% | 235.214 | 31.224% |