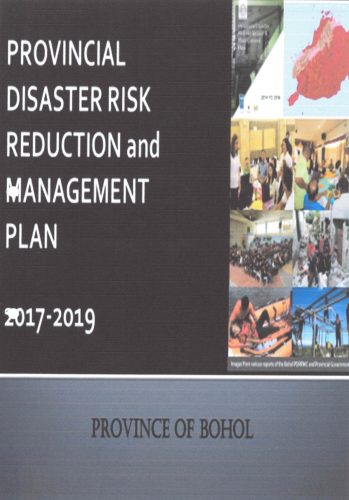 At the outset, allow me to congratulate and thank all the members of the Provincial Disaster Risk Reduction and Management Council (PDRRMC) and their representatives who actively participated in the review and approval of the updated Local Disaster Risk Reduction and Management Plan for 2017-2019 through PDRRMC Resolution No. 05, s. 2017 during the Council's Meeting on June 2, 2017. Your valuable inputs have been being considered and incorporated to the final copy of the Plan.
With this updated PDRRM Plan, which was presented to and approved by the PDRRMC last June 2, 2017 will be endorsed further to the Sangguniang Panlalawigan for adoption. Bohol has now a road map towards disaster resilient communities following its credo to BUILD BACK BOHOL BETTER.
We were all shocked by the tragic 7.2M that jolted our island province last October 15, 2013 and saddened with the magnitude of the disasters which continue to challenge the Province of Bohol. Our experience during the M7.2 Great Bohol Earthquake made us learn and appreciate the value of disaster awareness and disaster preparedness. Knowing our risks, assessing our vulnerabilities are very important strategies in identifying appropriate programs, projects and activities for our DRRM plan. On hindsight, disasters have made us increasingly aware of how vulnerable our island Province is not only to earthquakes but other natural and manmade hazards as well.
With this updated Plan, this will guide us in our DRRM implementation in the Province for disaster prevention and mitigation, preparedness, disaster response and disaster recovery and rehabilitation. We have a road map for effective risk reduction and management and to rise up from the effects of disasters through a comprehensive disaster rehabilitation and recovery plan.
I enjoin all to work hand in hand and demonstrate the Boholano resilient spirit for cooperation and collaboration so that we can productively and successfully implement this PDRRM Plan.
Good luck and God bless us all!
ATTY. EDGAR M. CHATTO, Governor