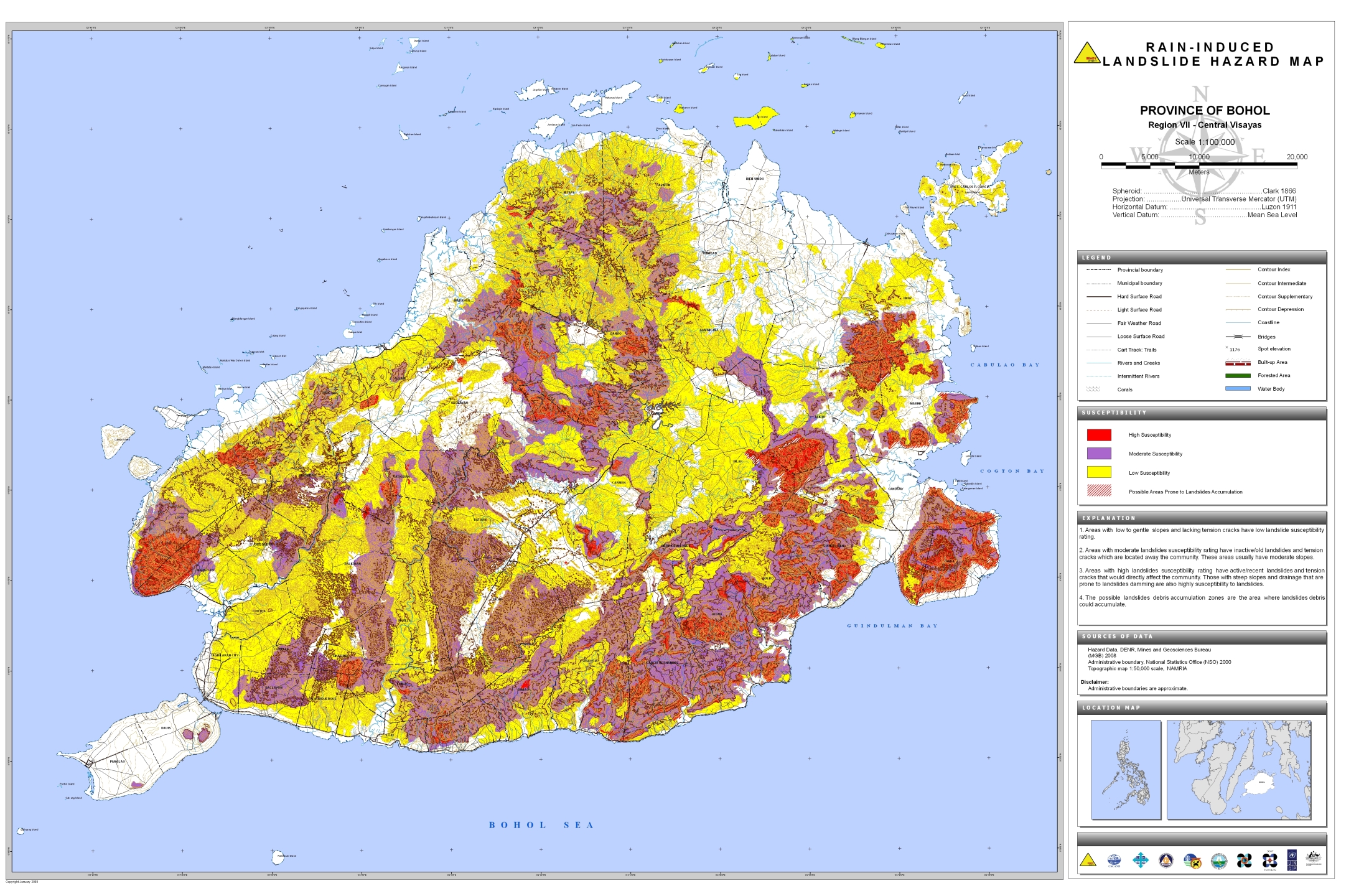 Download in PDF or in JPG formats
The Rain-Induced Landslide Hazard Map shows areas' susceptibility to landslide caused by rain. Susceptibility classification includes: High, Moderate, Low Susceptibilities, and, Possible Areas prone to Landslide Accumulation.
Areas with low to gentle slopes and lacking tension cracks have low landslides susceptibility rating. Areas with moderate susceptibility rating have inactive/old landslides and tension cracks which are located away the community. These areas usually have moderate slopes. Areas with high landslides susceptibility rating have active/recent landslides and tension cracks that would directly affect the community. Those with steep slopes and drainage that are prone to landslides damming are also high susceptibility to landslides. The possible landslides debris accumulation zones are the area where landslides debris could accumulate.
The Rain-Induced Landslide Map is acquired from the Hazards Mapping and Assessment for Effective Community-Based Disaster Risk Management (READY) Project through the Philippine Institute of Volcanology and Seismology (PhIVolcS). The Hazard Data in the map is from the Department of Environment and Natural Resources (DENR), Mines and Geosciences Bureau (MGB) 2008, Administrative boundaries from the National Statistics Office (NSO) 2000, and, the Topographic Map 1:50,000 scale is from the National Mapping and Resource Information Authority (NAMRIA).
Available in PDF and JPG, this map may be downloaded and used for free provided that: a.) no alterations are made to the map; b.) proper citations be referred to the sources mentioned above; and, c.) all logos appearing on the map should also appear on your document.