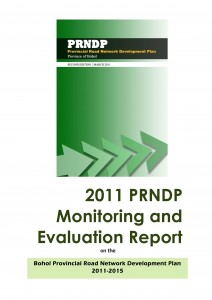 The main objective of the M&E plan is to establish guiding principles, systems and structures in monitoring assessing the status and evaluating progress against PRNDP goals, objectives, and targets. On the whole, M&E provides planners and decision-makers data—regularly collected and analyzed—on which to base subsequent strategies, interventions and activities.
PRNDP's M&E framework is hinged on three aspects, namely:
Establishment of baseline information on the condition of the project area particularly the physical and social conditions of the project sites as well as the status of capacity levels of selected PGBh offices involved in road network development;
Development and operationalization of an effective data collection system from the partners and direct implementers of the PRNDP;
Establishment of an efficient feedback mechanism on the developments of PRNDP to the partners and implementers for information and management action.
Download the document in PDF from the link below or by clicking on the image to the right.
2011 Monitoring and Evaluation Report on the Provincial Road Network Development Plan 2011-2015