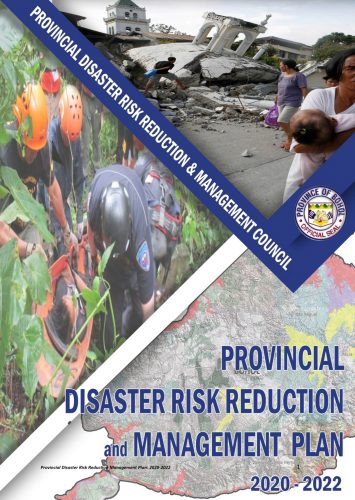 First and foremost, I would like to thank the members of the Provincial Disaster Risk Reduction and Management Council (PDRRMC) for their cohesive and collective efforts in coming up with this revised and updated Provincial Disaster Risk Reduction and Management (PDRRM) Plan for 2020-2022 of the Province of Bohol.
The M7.2 Great Bohol Earthquake in 2013 and the succeeding series of typhoons that hit the province of Bohol may be tragic, but somehow it was a wake-up call for us and paved the way for us to showcase and strengthen the Boholano spirit of resiliency that allowed us to rise from the rubbles and pushes us to become what we are and to where we are now.
I am now confident that concerns and matters relative to the four thematic areas of disaster management – disaster prevention and mitigation, disaster preparedness, disaster response, and disaster rehabilitation and recovery, will be addressed in all aspects considering that numerous agencies of the government also provided their inputs by way enumerating the various PPAs specific for each disaster pillar attuned to the respective goals, objectives, and outcomes. With this Plan, Bohol now has a roadmap towards disaster resilient communities following its credo to BUILD BACK BOHOL BETTER.
I enjoin all Boholanos and Boholanos-at-heart to work hand in hand and demonstrate the Boholano resilient spirit of cooperation and collaboration so that we can productively and successfully implement this PDRRM Plan.
Good luck and God bless us all!
ATTY. ARTHUR C. YAP, Governor