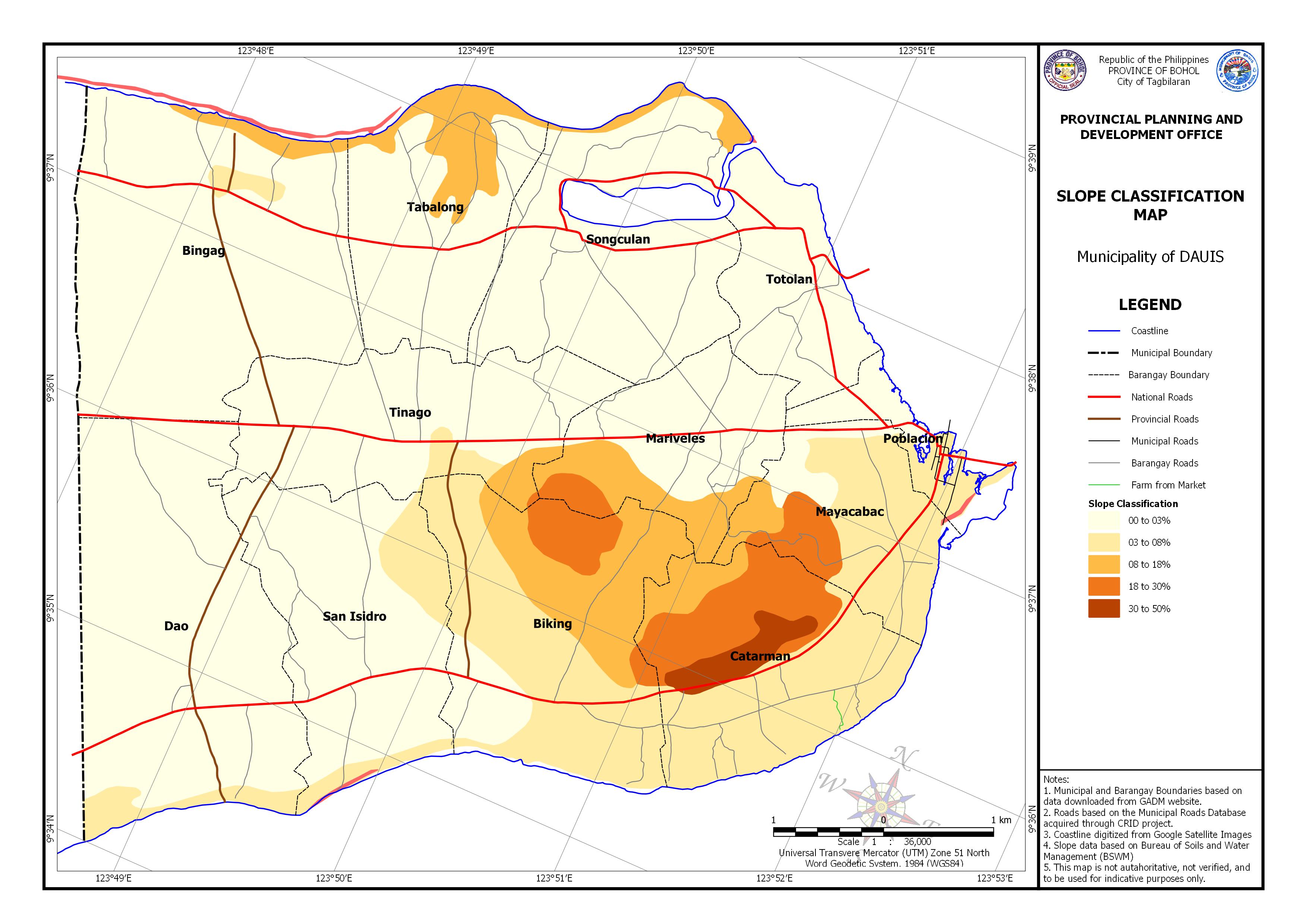 Download in PDF and JPG format
The slope is the measure of steepness or the degree of inclination of a feature relative to the horizontal plane. Gradient, grade, incline, and pitch are used interchangeably with slope. The slope is typically expressed as a percentage, an angle, or a ratio. The average slope of a terrain feature can conveniently be calculated from contour lines on a topo map.
 http://geokov.com/education/slope-gradient-topographic.aspx 
The map shows the steepness of a slope. Ranging from 0 to 03%, 03% to 08%, 08% to 18%, 18 to 30% and the steepest is ranging from 30 to 50%.
Slope data based on the Bureau of Soils and Water Management (BSWM). This map is not authoritative, not verified, and to be used for indicative purposes only.
AREA EXPOSED TO SLOPE CLASSIFICATION BY BARANGAY
| | | | | | | | | | | | |
| --- | --- | --- | --- | --- | --- | --- | --- | --- | --- | --- | --- |
| Barangay | Area | 0 to 3% Slope | | 3 to 8% Slope | | 8 to 18% Slope | | 18 to 30% Slope | | 30 to 50% Slope | |
| | (Hectares) | (Hectares) | Percentage | (Hectares) | Percentage | (Hectares) | Percentage | (Hectares) | Percentage | (Hectares) | Percentage |
| Biking | 489.508 | 52.737 | 10.77% | 245.321 | 50.12% | 138.231 | 28.24% | 46.294 | 9.46% | | |
| Bingag | 637.543 | 602.105 | 94.44% | 14.216 | 2.23% | 21.221 | 3.33% | | | | |
| Catarman | 380.868 | | | 206.899 | 54.32% | 32.764 | 8.60% | 100.670 | 26.43% | 39.499 | 10.37% |
| Dao | 619.836 | 581.677 | 93.84% | 37.335 | 6.02% | | | | | | |
| Mariveles | 259.407 | 174.565 | 67.29% | | | 67.688 | 26.09% | 17.153 | 6.61% | | |
| Mayacabac | 245.550 | 37.019 | 15.08% | 147.919 | 60.24% | 21.413 | 8.72% | 36.408 | 14.83% | | |
| Poblacion | 88.749 | 39.746 | 44.79% | 34.628 | 39.02% | | | | | | |
| San Isidro | 409.841 | 339.968 | 82.95% | 67.215 | 16.40% | | | | | | |
| Songculan | 425.780 | 402.783 | 94.60% | | | 20.545 | 4.83% | | | | |
| Tabalong | 319.378 | 241.408 | 75.59% | | | 77.970 | 24.41% | | | | |
| Tinago | 376.656 | 338.286 | 89.81% | 18.662 | 4.96% | 18.758 | 4.98% | 0.949 | 0.25% | | |
| Totolan | 201.105 | 201.020 | 99.96% | | | | | | | | |
| Total | 4454.220 | 3011.314 | 769.12% | 772.194 | 233.30% | 398.590 | 109.20% | 201.475 | 57.58% | 39.499 | 10.37% |