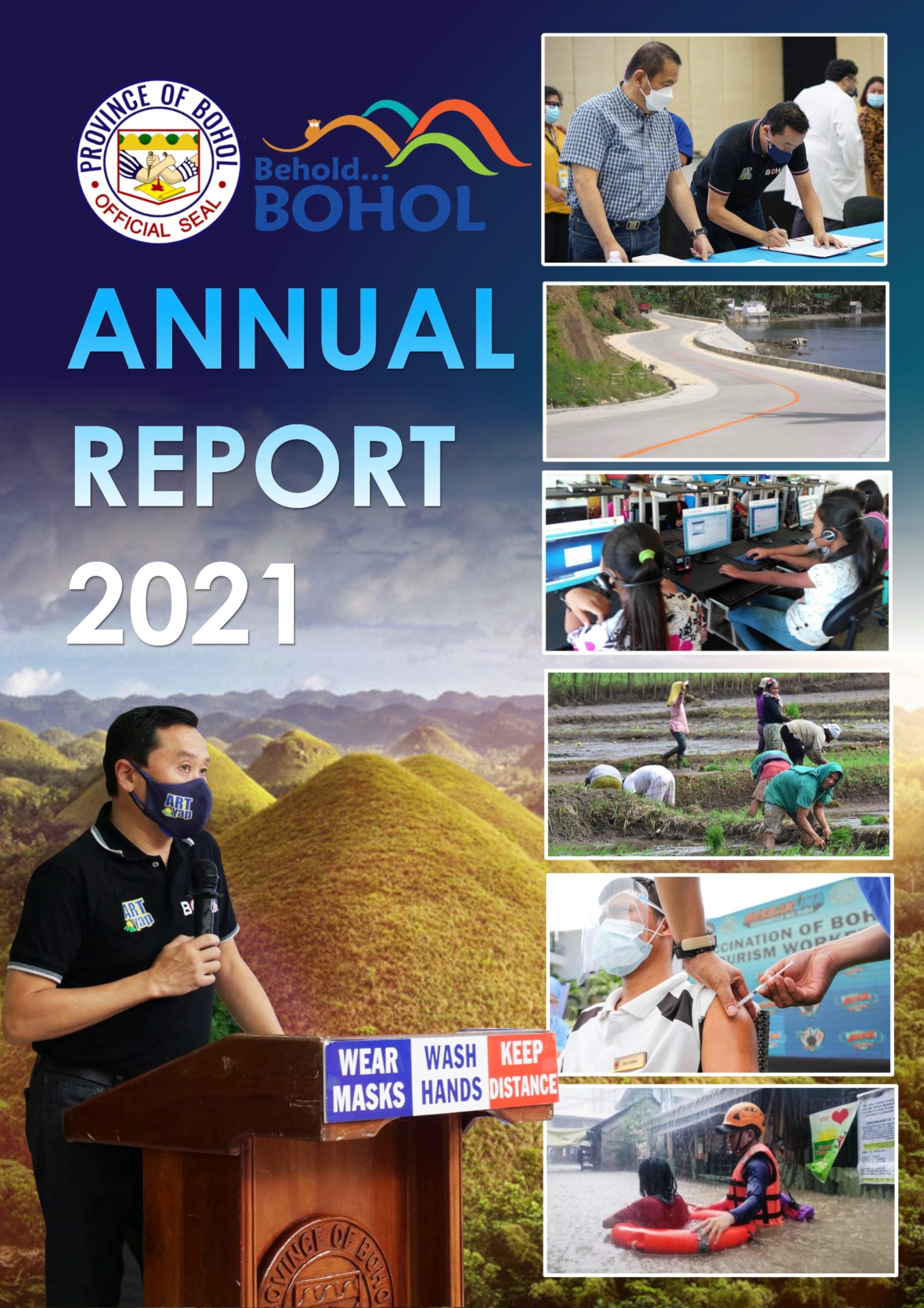 At the onset of the term of the leadership of the current Provincial Administration, we have been guided by the development principle of continuing effective programs of previous Administrations, enhancing and upgrading plans and projects that will be more inclusive, and setting the foundations of the 3-pillars of Pag-atiman sa mga Makaloloy ug Kabus, Pagpukaw sa Kultura, and Pagpalambo sa Industriyang Turismo ug Local nga Ekonomiya.
In 2021, we can see some fruition of this adherence to these principles through the improvement of the living conditions of our fellow Bol-anons, despite the challenges of the COVID-19 pandemic and the damages brought by supertyphoon Odette at the tail-end of the year. The hospital modernization program for the ten PGBh-operated healthcare facilities, modernization of our agriculture productivity and capability, provision of back-end support to the tourism industry, and manpower enhancement of government institutions have brought to greater heights the status of governance and benefits enjoyed by our constituents.
One big challenge for the Provincial Administration in 2022 is the commencement of the devolution processes of additional functions by national government agencies to the local government units. This will be a great task for the offices and departments of the provincial government. However, this had already been partially addressed considering that the Provincial Government had the foresight of institutionalizing most of the devolved functions in offices that were formally created like the Bohol Environment Management Office (BEMO), Bohol Investment Promotion Center (BIPC), and the Bohol Tourism Office.
This Provincial Annual Report for CY 2021 records the various collaborative efforts of various development organizations from the Provincial Government of Bohol (PGBh) departments and offices, National Government Agencies (NGAs), and private organizations in the pursuit of providing a more inclusive and comprehensive growth in the lives of all.
The programs and projects initiated by the local government units (barangay, municipal/city, and provincial), national government agencies, and civil society organizations are included in this Annual Report. This report follows the format prescribed by the Department of Interior and Local Government, and is further organized according to the sectoral classification of the National Economic Development Authority, as follows: Economic Development, Social Development, Development Administration, Environmental Management, and Infrastructure Development. Included, likewise, are key areas of concern that will serve as points of reference for strategic decisions and future actions that will address gaps, issues and challenges in the various programs, plans, and activities of the multi-sectoral organizations.
The balanced relationship between the executive and legislative branches of the Provincial Government of Bohol has made possible the successful accomplishments of the targets contextualized within the sectoral pillars of governance. Good governance and joint leadership paved the way to the improvement and/or stability of socio-economic indicators despite the various challenges brought about by the COVID-19 pandemic and TS Odette.
Padayon Bol-anon!
March 25, 2022.
(Sgd) ATTY. ARTHUR C. YAP, Governor