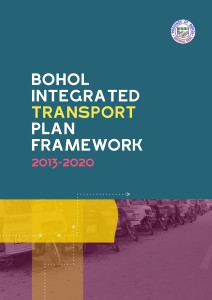 The Integrated Transport Plan Framework (ITPF) serves as guide to good practices for transport planning in Bohol.
The Framework sets out a collaborative and sustainable approach to plan the province's transport system in support for the achievement of its development vision and goals. To craft this ITPF, consultations have been conducted with technical people, civil society and other stakeholders through workshops and other avenues such as the Bohol Transportation Forum.
With the expected continuing economic development of the Province that is expected to bring greater movement of people and goods, this ITPF will become the guide in the formulation of the Bohol Integrated Transport Plan (BITP) for 2013-2020 which will strategically address future transport requirements of the Province. BITP will be implemented to sustain economic growth, conserve the environment and support the quality life of Boholanos.