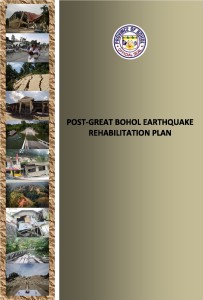 At 8:12 AM on October 15, 2013, a 7.2-magnitude earthquake struck Bohol and nearby provinces as recorded by the PHIVOLCS seismic monitoring network. The epicenter was plotted at 9.86 degrees N and 124.07 degrees E at a focal depth of 12 kilometers. In areas where the earthquake hit hard, destructive ground shaking were observed at Intensity VII to VIII on the PHIVOLCS Earthquake Intensity Scale (PEIS). The earthquake was generated by a reverse fault which had no previous surface manifestation. The resulting ground rupture created a wall of rock above the epicenter ranging from 0.10 to as much as 5 meters in vertical displacements. Other features such as scallops, bulges and warps, were also observed in the deformation zone, which extended as wide as 30 meters in some places.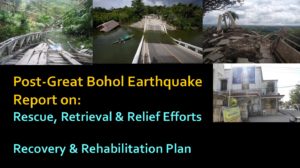 The earthquake sent terrified residents into deadly stampedes as it caused widespread damage to buildings and infrastructures – notably roads, bridges, houses and even icons of Boholano culture and heritage including churches dating from the Spanish colonial period. In the aftermath, some 211 persons recorded dead, with 877 injured and 8 missing. Damage to properties and business operations exceeds billions of pesos. Thankfully, the earthquake occurred on a holiday for the Muslim festival of Eid ul-Adha. Had it occurred on a working day or on a Sunday, more people would have been killed or injured while they would have been on their respective workplaces, classrooms or attending mass in churches.
In just minutes after the earthquake, the Provincial Disaster Risk Reduction and Management Council (PDRRMC) immediately convened to establish the PDRRMC Command Center. The PDRRMC immediately responded to concerns of Communications, Search and Rescue, and Emergency Response.
After all threats to life and property have been addressed, a Damage Assessment and Needs Analysis (DANA) was carried out by the Provincial Government of Bohol (PGBh) in coordination with the Municipal Local Government Units (MLGUs) as a basis for an informed approach to the drafting of the plan for restoration. From the DANA, the early recovery plan was conceived and this rehabilitation plan was formulated.
Download the document from the link below.