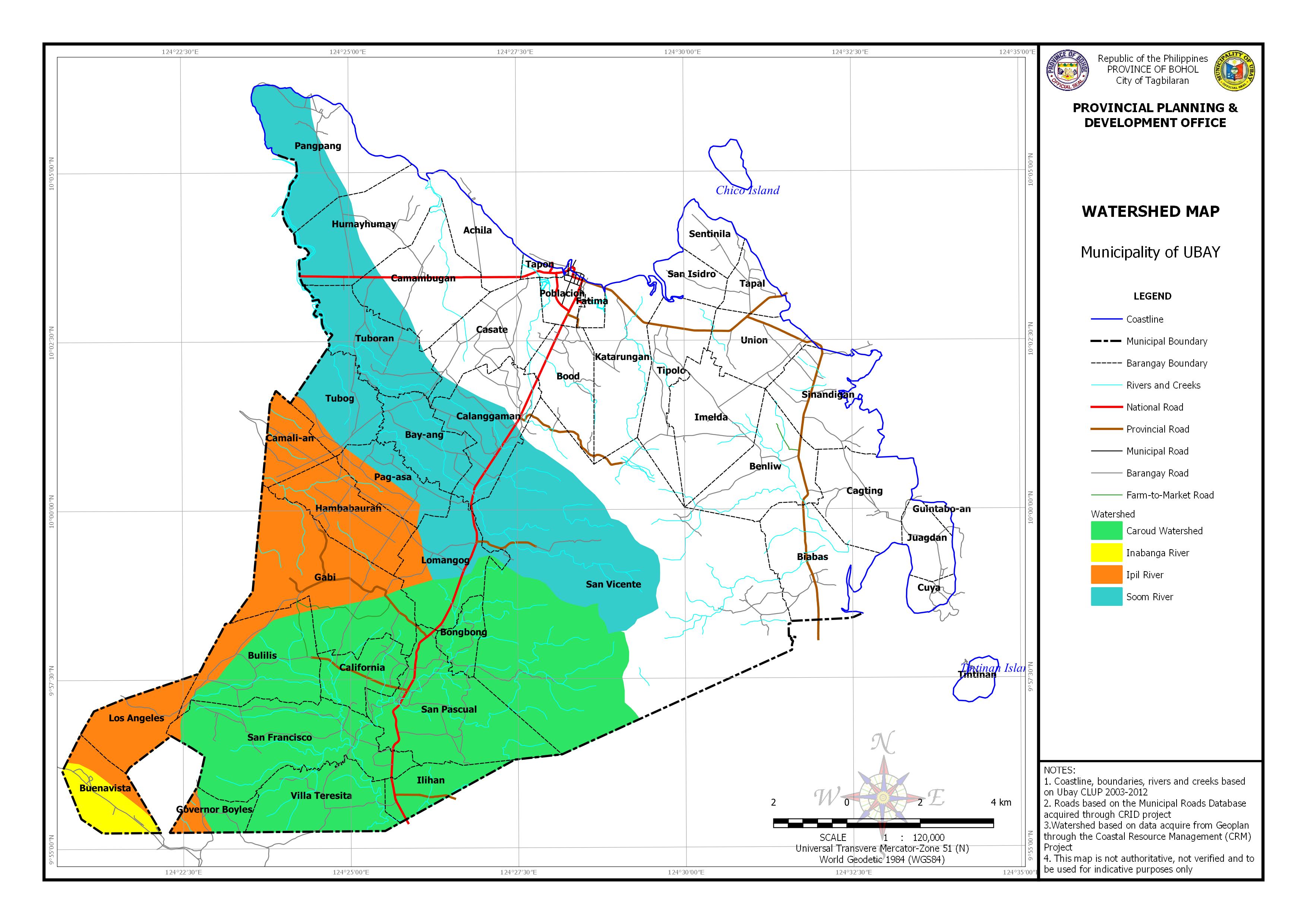 Download in PDF and JPG format
The map shows the area exposed to Watershed by barangay of the Municipality of Ubay.
Watershed based on data acquired from Geoplan through the Coastal Resource Management (CRM) Project. This map is not authoritative, not verified, and to be used for indicative purposes only.
AREA EXPOSED TO WATERSHED BY BARANGAY
| | | | | | | | | | |
| --- | --- | --- | --- | --- | --- | --- | --- | --- | --- |
| Barangay | Area | Caroud Watershed | | IInabanga River | | Ipil River | | Soom River | |
| | (Hectares) | (Hectares) | Percentage | (Hectares) | Percentage | (Hectares) | Percentage | (Hectares) | Percentage |
| Bay-ang | 415.145 | | | | | | | 415.145 | 100.00% |
| Bongbong | 171.884 | 171.884 | 100.00% | | | | | | |
| Buenavista | 387.243 | | | 262.665 | 67.83% | 124.578 | 32.17% | | |
| Bulilis | 748.311 | 555.951 | 74.29% | | | 192.360 | 25.71% | | |
| Calanggaman | 626.032 | | | | | | | 396.682 | 63.36% |
| California | 326.555 | 326.555 | 100.00% | | | | | | |
| Camali-an | 276.417 | | | | | 276.417 | 100.00% | | |
| Camambugan | 719.742 | | | | | | | 131.692 | 18.30% |
| Casate | 583.765 | | | | | | | 30.282 | 5.19% |
| Gabi | 1157.012 | 358.888 | 31.02% | | | 798.124 | 68.98% | | |
| Governor Boyles | 187.582 | 123.483 | 65.83% | | | 64.097 | 34.17% | | |
| Guintabo-an | 34.340 | | | | | | | | |
| Hambabauran | 529.788 | | | | | 529.771 | 100.00% | 0.017 | 0.00% |
| Humayhumay | 739.160 | | | | | | | 349.792 | 47.32% |
| Ilihan | 276.900 | 276.900 | 100.00% | | | | | | |
| Lomangog | 619.483 | 237.219 | 38.29% | | | 87.800 | 14.17% | 294.464 | 47.53% |
| Los Angeles | 402.969 | | | | | 402.969 | 100.00% | | |
| Pag-asa | 384.338 | | | | | 168.784 | 43.92% | 215.555 | 56.09% |
| Pangpang | 802.227 | | | | | | | 487.943 | 60.82% |
| San Francisco | 1124.516 | 1108.712 | 98.60% | | | 15.804 | 1.41% | | |
| San Pascual | 995.168 | 995.168 | 100.00% | | | | | | |
| San Vicente | 5232.845 | 1470.001 | 28.09% | | | | | 1402.791 | 26.81% |
| Tubog | 451.619 | | | | | 55.275 | 12.24% | 396.344 | 87.76% |
| Tuboran | 559.370 | | | | | | | 550.899 | 98.49% |
| Villa Teresita | 611.564 | 611.564 | 100.00% | | | | | | |
| Total | 25218.055 | 6236.326 | 836.12% | 262.665 | 67.83% | 2715.979 | 532.76% | 4671.604 | 611.67% |