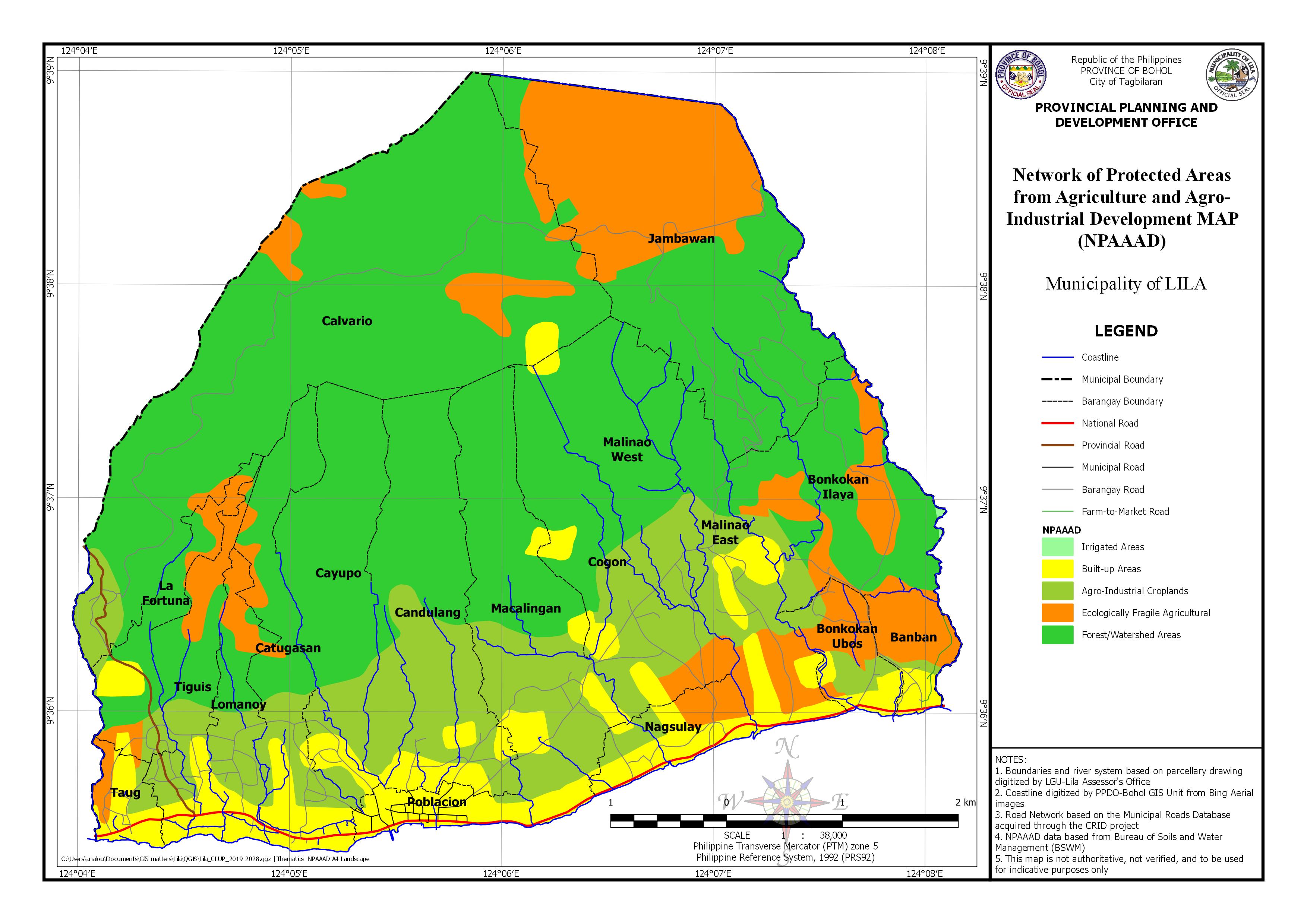 Download in PDF and JPG format
The map shows the Network of Protected Areas from Agriculture and Agro-Industrial Development (NPAAD) of the Municipality of Dauis that classified as Irrigated Areas, Built-up Areas, Agro-Industrial Croplands, Ecologically Fragile Agricultural and Forest/Watershed areas.
NAPAAD data based on the Bureau of Soil and Water Management (BSWM). This map is not authoritative, not verified, and to be used for indicative purposes only.
AREA EXPOSED TO NPAAAD BY BARANGAY
| | | | | | | | | | | | |
| --- | --- | --- | --- | --- | --- | --- | --- | --- | --- | --- | --- |
| Barangay | Area | Agro-industrial croplands or lands presently planted to industrial crops that support the viability of existing agricultural infrastructure and agro-based enterprises | | All agricultural lands that are ecologically fragile, the conversion of which to non agricultural uses will result to serious environmental degredation, mangrove anf fish sanctuaries | | All irrigated lands | | Built-up areas | | Forest/Watershed areas | |
| | (Hectares) | (Hectares) | Percentage | (Hectares) | Percentage | (Hectares) | Percentage | (Hectares) | Percentage | (Hectares) | Percentage |
| Banban | 54.651 | 3.769 | 6.90% | 39.301 | 71.91% | | | 11.581 | 21.19% | | |
| Bonkokan Ilaya | 235.481 | 18.458 | 7.84% | 69.310 | 29.43% | 1.102 | 0.47% | 3.701 | 1.57% | 142.912 | 60.69% |
| Bonkokan Ubos | 66.327 | 19.572 | 29.51% | 30.625 | 46.17% | | | 16.130 | 24.32% | | |
| Calvario | 806.148 | 28.529 | 3.54% | 65.238 | 8.09% | | | 8.914 | 1.11% | 703.470 | 87.26% |
| Candulang | 293.490 | 125.221 | 42.67% | | | | | 33.294 | 11.34% | 134.975 | 45.99% |
| Catugasan | 171.121 | 36.702 | 21.45% | 11.501 | 6.72% | | | 39.408 | 23.03% | 83.511 | 48.80% |
| Cayupo | 217.302 | 33.672 | 15.50% | | | | | 14.853 | 6.84% | 168.777 | 77.67% |
| Cogon | 207.025 | 72.920 | 35.22% | 17.825 | 8.61% | | | 24.324 | 11.75% | 91.957 | 44.42% |
| Jambawan | 499.561 | | | 243.399 | 48.72% | | | | 0.00% | 256.166 | 51.28% |
| La Fortuna | 90.095 | 10.789 | 11.98% | 18.787 | 20.85% | | | 14.333 | 15.91% | 46.185 | 51.26% |
| Lomanoy | 85.477 | 32.418 | 37.93% | 18.139 | 21.22% | | | 13.702 | 16.03% | 21.218 | 24.82% |
| Macalingan | 283.497 | 104.137 | 36.73% | | | | | 42.309 | 14.92% | 137.051 | 48.34% |
| Malinao East | 194.783 | 44.946 | 23.08% | 28.843 | 14.81% | | | 47.253 | 24.26% | 73.748 | 37.86% |
| Malinao West | 150.937 | 43.361 | 28.73% | | | | | 3.235 | 2.14% | 104.341 | 69.13% |
| Nagsulay | 70.907 | 12.954 | 18.27% | 18.605 | 26.24% | | | 39.348 | 55.49% | | |
| Poblacion | 47.646 | 2.480 | 5.21% | | | | | 45.165 | 94.79% | | |
| Taug | 39.564 | 6.879 | 17.39% | 9.633 | 24.35% | | | 23.052 | 58.27% | | |
| Tiguis | 119.020 | 30.954 | 26.01% | 24.392 | 20.49% | | | 24.736 | 20.78% | 38.937 | 32.72% |
| Total | 3633.033 | 627.761 | 367.92% | 595.598 | 347.63% | 1.102 | 0.47% | 405.339 | 403.75% | 2003.248 | 680.24% |