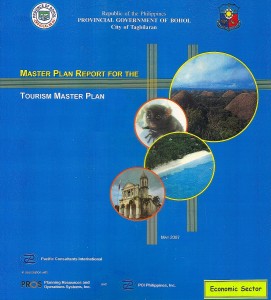 A joint venture undertaking of Pacific Consultants International (PCI), in association with Planning Resources and Operations Systems, Inc., and the Provincial Government of Bohol. Notwithstanding all the infrastructure developments and tourism products/programs, the importance of sustaining its natural and cultural heritage will always be a key priority in the planning and development of tourism in Bohol. Thus, it is in this context that the Provincial Government of Bohol (PGB) has initiated the preparation of a Tourism Master Plan (TMP), a plan that would be a unified direction for the Province to further harness and sustain its vast tourism potential. The plan is available in PDF format.
Download the documents from the links below:
The Main Report provides a unified direction or plan for the province to further harness and sustain its vast tourism potential. The plan is organized around six (6) sector components, namely: the physical (structure plan and the transportation infrastructure plan); the environmental management plan; the conservation management plan; the entrepreneurship development plan; the various sustainable development proposal; and the critical implementation plan.
The Interim Report highlights a summary of projects in support of the tourism development framework plan. (Annex A) Details of the outlined projects (project profiles) are included as Annex B. Note that some of these projects were selected from the priority tourism projects of the LGU. (Annex C) These proposed projects are an offshoot of the Bohol Tourism Master Plan; a summary of which is provided in the succeeding sections for context.