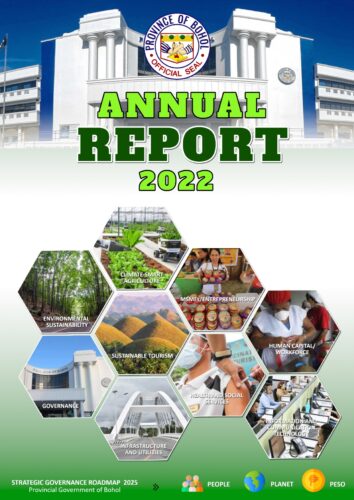 Upon the assumption of the new administration in the governance of the Province of Bohol, we carried the aspirations, hopes and dreams of bringing Boholanos towards strongly rooted, comfortable and secure lives. It is the Aumentado-Balite's fervent hope to be able to fulfill these mandates entrusted by the people.
The Aumentado-Balite administration started with the formulation of the Executive Legislative Agenda 2022-2025 that was guided by the newly crafted Strategic Governance Roadmap 2025, the template by which Bohol will move forward (ABANTE) in terms of governance, operational efficiency and service to the people. The roadmap contains the major development thrusts of the local administration, including the development priorities of the Provincial Governor and the legislative priorities of the Vice Governor and the members of the Sangguniang Panlalawigan. Likewise, it reflects the Administration's commitment to provide a transparent, honest and genuine public service that is truly for the Boholanos.
Still supporting the existing Vision and Mission for the Province of Bohol, the PGBh will continue with its efforts towards the accomplishment of the various programs, projects and activities (PAPs) in support to its aim of positioning Bohol as a "Smart-Resilient Province advancing Climate-Smart Agriculture and Sustainable Tourism". A "Smart" province simply means that information and communication technology and innovation are to be fully utilized to sustainably support the two economic drivers of eco-cultural tourism and agro-industry.
This Provincial Annual Report for CY 2022 records the various collaborative efforts of various development organizations from the Provincial Government of Bohol (PGBh) departments and offices, National Government Agencies (NGAs), and private organization in the pursuit of providing a more inclusive and comprehensive growth in the lives of all.
This Report follows the format prescribed by the Department of Interior and Local Government, and is further organized according to the sectoral classification of the Regional Development Council (RDC), as follows: Economic Development, Social Development, Development Administration, Environmental Management, and Infrastructure Development. Including, likewise, are key areas of concerns that will serve as points of reference for strategic decisions and future actions that will address gaps, issues and challenges in the various programs, plans and activities of the multi-sectoral organizations.