The Flag 
The official flag of Bohol was approved per Provincial Board Resolution NO. 238 on 28 October 1969 and Resolution No. 121, series of 1971. Main Colors: Blue, white and red for nobility, purity and courage—seeks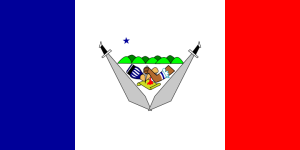 to perpetuate Bohol's most illustrious local heroes namely, Sikatuna, Tamblot, Dagohoy and Pres. Carlos P. Garcia. Blood Compact: Re-enacts the blood compact between Sikatuna and Legazpi, on a background of green(The green signifying our fields) considered as our country's first international peace treaty. Sword/"barong": represents the Boholanos quest for independence as exemplified by the Tamblot Revolt (1621-1711) and the Dagohoy Rebellion (1744-1829). Star: At the top mid-section of the flag, on a background of white represents Bohol's greatest son, Carlos P. Garcia, President of the republic of the Philippines from March 18, 1956. Dec. 30, 1961. The yellow star is superimposed with a blue star that symbolizes Pres. Garcia'a most important event in his life prior to his death—that of being the President of the 1971 Constitutional Convention.
Bird
The Provincial Bird is the colorful Antolihaw or Dimodlaw (Oriole:Oriolus Chinensis) which is found all over the province.  
Tree
The Provincial tree is the sturdy molave (vitex parviflora), which is locally known as "Tugas"
Dance
The Provincial Dance is the Kuratcha Boholana.
Fruit
Bohol Mangga, Mango is botanically designated as Mangifera Indica L. It belongs to the family Anacadiaceae. Its most important commercially viable cultivars are the carabao and pico, both of which abound in Bohol. The predominantly limestone soil of Bohol has produced some of the sweetest mangoes in the Philippines.
Hero
 Bohol's Provincial Hero is Francisco Sendrijas, also popularly known as Fransico Dagohoy or Dagohoy. He is known to have led the longest revolt in Philippine history. He is a native of Inabangga, Bohol. Historians believe that his alias was derived from a belief that he had an amulet ot "anting-anting" and "dagon" that protected him from being harmed by his local alias "Dagon sa hoyohoy."
Plant
Bohol's Procincial Plant of Bohol is the Ubi Kinampay, a rootcrop with white or light to dark purple meat. This rootcrop is very aromatic and is cooked mixed to other vegetables, plainly boiled or candies, cakes and other goodies. The best kind of Ubi is believed to be found only in Bohol. An Ubi Festival is celebrated every January in Bohol.
Flower
Bohol's Provincial Flower is the White Gumamela which symbolizes the characteristics of simplicity and naturalness of the Boholano. It's extra-length and bowing stamen evokes a language of welcome, it's tender structure with pollens characterize the people's simple tastes and simple needs. The greenish, Close-knit petals depict the loyalty and constancy of the Boholano family towards each of its memebers, conspicuous of the bond and the blood that join them together whether in adversity or in joy.
Provincial seal
Colors – represent the Philippine Flag and its true meaning

Blood compact – symbolizes the historical blood – letting by sikatuna and Legazpi on 16 March 1565
Upper Mid section – replica of the Chocolate Hills, the signature attraction of Bohol