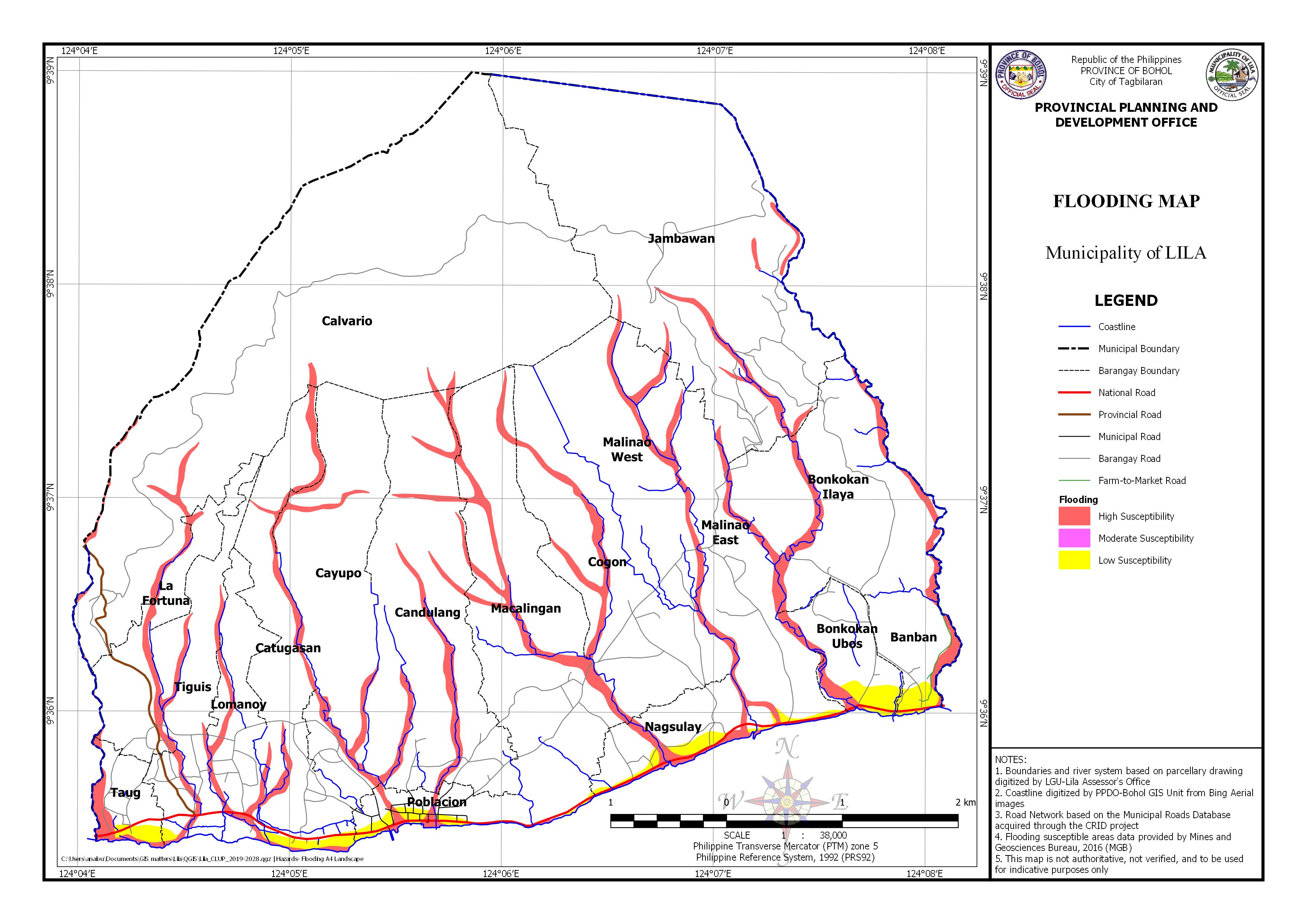 Download in PDF and JPG format
The map shows the area exposed to flooding by barangay to High and moderate susceptibility, as shown in the table only 200 square meters are exposed to high susceptibility, while 40 square meters are exposed to moderate susceptibility. Flooding susceptible areas data provided by Mines and Geosciences Bureau (MGB). This map is not authoritative, not verified, and to be used for indicative purposes only.
This map may be downloaded and used for free provided that no alterations are made to the map and that proper citations be referred to this source.
AREA EXPOSED TO FLOODING BY BARANGAY
| | | | | | | | |
| --- | --- | --- | --- | --- | --- | --- | --- |
| Barangay | Area | Area Exposed to High Susceptibility | | Area Exposed to Low Susceptibility | | Area Exposed to Moderate Susceptibility | |
| | (Hectares) | (Hectares) | Percentage | (Hectares) | Percentage | (Hectares) | Percentage |
| Banban | 54.651 | 5.048 | 9.238% | 7.357 | 13.462% | 0.033 | 0.060% |
| Bonkokan Ilaya | 235.481 | 21.943 | 9.319% | | | | |
| Bonkokan Ubos | 66.327 | 6.959 | 10.493% | 9.584 | 14.450% | | |
| Calvario | 806.148 | 9.702 | 1.203% | | | | |
| Candulang | 293.490 | 24.243 | 8.260% | | | | |
| Catugasan | 171.121 | 15.792 | 9.228% | 6.285 | 3.673% | | |
| Cayupo | 217.302 | 13.220 | 6.083% | | | | |
| Cogon | 207.025 | 16.007 | 7.732% | | | | |
| Jambawan | 499.561 | 12.529 | 2.508% | | | | |
| La Fortuna | 90.095 | 8.055 | 8.941% | | | | |
| Lomanoy | 85.477 | 9.172 | 10.731% | 0.222 | 0.259% | | |
| Macalingan | 283.497 | 23.363 | 8.241% | 0.534 | 0.188% | | |
| Malinao East | 194.783 | 18.214 | 9.351% | 2.879 | 1.478% | | |
| Malinao West | 150.937 | 9.562 | 6.335% | | | | |
| Nagsulay | 70.907 | 9.473 | 13.360% | 8.324 | 11.740% | | |
| Poblacion | 47.646 | 4.861 | 10.203% | 8.263 | 17.343% | | |
| Taug | 39.564 | 8.189 | 20.699% | 4.761 | 12.034% | | |
| Tiguis | 119.020 | 9.397 | 7.895% | 1.117 | 0.939% | | |
| Total | 3633.033 | 225.729 | 159.819% | 49.326 | 75.566% | 0.033 | 0.060% |