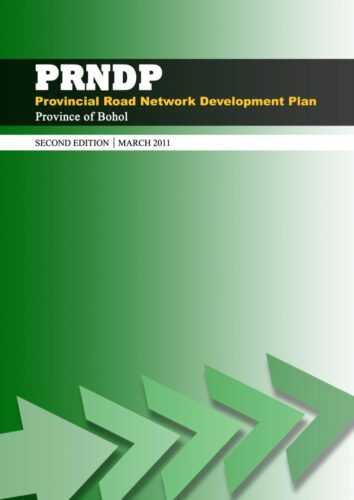 The Bohol Provincial Road Network Development Plan (PRNDP) is an integrated five-year (2011-2015) plan for the sustainable development and management of roads in the province. It is a component of the Provincial Roads Management Facility (PRMF) of the Australian Agency for International Development (AusAID) in partnership with the Department of Interior and Local Government (DILG) which seeks institutional reforms and governance with the road sector as an entry point.
The PRNDP supports the efforts of provincial governments to increase economic activities and improve public access to infrastructure and services by prioritizing road development activities over a rolling five-year period through a participatory process, involving various community stakeholders from the private and business sectors, national government agencies as well as key provincial government departments and offices. It targets rehabilitation and sustainable maintenance of provincial roads on an annual basis and is supported by multi-year budgeting and expenditure management, underpinned by a capacity building program to improve skills, processes and systems and road development and management.
It is anchored on the objectives of the Provincial Development and Physical Framework Plan (PDPFP); the goals and objectives of the PRMF; the Provincial Road Sector Planning and Management Review (PRSPMR) which identifies gaps in capacity for the Provincial Government to sustain maintenance and rehabilitation of roads; the condition of the existing road network; current road development activities at the national and local levels, including those supported by official development assistance; and available funds.
The PRNDP is updated annually to check on its progress against targets and emerging concerns. The updating activity also develops systematic, repeatable and transparent selection processes for prioritizing road investment.
This second edition features road development accomplishments in 2010, a provincial roads situationer, road development priorities for 2011-2015, and strategies for road development and capacity building to manage road assets through financial management, human resource development, and information and environmental management. Sections on gender equality and social inclusion, as well as on community engagement in road management, have been added.
The PRNDP updating process took about 10 months and included a series of data gathering and consultations involving various stakeholders. Technical and administrative personnel from various Provincial Government offices provided data, maps and writing inputs. Starting this edition, the PRNDP is approved by the Provincial Governor, the Sangguniang Panlalawigan (SP), and the Provincial Development Council (PDC).