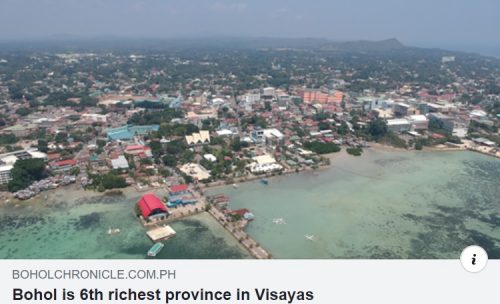 For 30 years, Bohol was a member of Club 20 — the country's 20 poorest provinces.
When the late Erico Boyles Aumentado took over as governor in 2001, Bohol was second to Ifugao with 50.2% poverty incidence.
Due to poverty, Bohol was a hotbed of communist insurgency. In fact, it was the GHQ of the CPP-NDF and NPA in Central and Eastern Visayas. Thus, Aumentado focused on poverty reduction for peace and development.
In the fight against poverty and insurgency, Aumentado established the Bohol Poverty Reduction Management Office (BPRMO) as the lead office, together with the Bohol Employment and Placement Office (BEPO), the Bohol Tourism Office (BTO) and the Bohol Environment Management Office (BEMO).
The Center for Culture and Arts Development (CCAD) and the Bohol Investment Promotion Center (BIPC) were also strengthened in support of poverty reduction.
BTO, BEMO, CCAD, and BIPC were all created by then-Governor Rene Lopez Relampagos, now Vice Governor of Bohol.
The Provincial Planning and Development Office (PPDO) spearheaded the crafting of Bohol's Program Framework for Poverty Reduction (BPFPR) with Team Bohol and consultant, Dr. Nestor Maniebo Pestelos, using his Poverty Database Monitoring System (PDMS), precursor of the Community-Based Monitoring System (CBMS).
Together with the military's Special Operations Teams in rural areas immersion, and community involvement, Team Bohol fought poverty with focus and clear goals.
BPRMO's community development workers went to conflict areas, once a no man's land, for sponsors of the Official Development Assistance (ODA) projects.
Under the program, Bohol channeled its 20% development fund amounting to P531.2 million to deal with poverty. It paid off.
Bohol became a FIRST CLASS province and listed the 34th richest province in the Philippines in 2003.
The Poverty Reduction Program for Peace and Development won the Trailblazing Program Award and a Special Citation on Local Peace Initiatives – the first ever – from the Galing Pook Foundation in 2004.
The number of CPP-NPA-NDF influenced barangays was reduced from 305 to 46, out of 1,109 by 2005. Armed NPA members were reduced from 283 in 2001 to 42 in 2005. The CPP-NPA Central Visayas HQ has also been moved from Bohol to Leyte.
By 2005 the United Nations Development Program (UNDP) had plucked Bohol out from Club 20. Bohol was named the NO. TWO BEST-PERFORMING province in poverty alleviation.
Then-President Gloria Macapagal-Arroyo issued an Administrative Order adopting Bohol's Poverty Reduction for Peace and Development as a template for other regions to emulate.
Poverty incidence in Bohol continues to slide down, from 31.3 percent in 2015 to 26 percent in 2018. Thanks to the continuing efforts of then Gov. Edgar Migriño Chatto, now congressman of Bohol's first district.
From 34th richest province in 2003, Bohol is now the 26th richest among the 81 provinces in the entire country and the 6th richest among the 16 provinces in the Visayas.
Lately, Gov. Arthur C. Yap led the launching of the Provincial Peace Framework with the Joint Task Force (JTF) Dagohoy as he signed the executive order creating the Provincial JTF to End Local Communist Armed Conflict (ELCAC) at Camp Lino I. Chatto in Macaas-Cabulijan in Tubigon town on Sept. 10.
This as Bohol strengthens its anti-criminality, environment sustainability, and disaster resilience while pushing for the Rural Development Program Purok Power Movement (RDP-PPM) through community mobilization and social-economic interventions.
Through it all, one underlying philosophy has served the Provincial Government of Bohol well: consistent development priorities and master planning for Bohol, even through various administrations, enhanced over time, and each administration building on the accomplishments of previous ones.