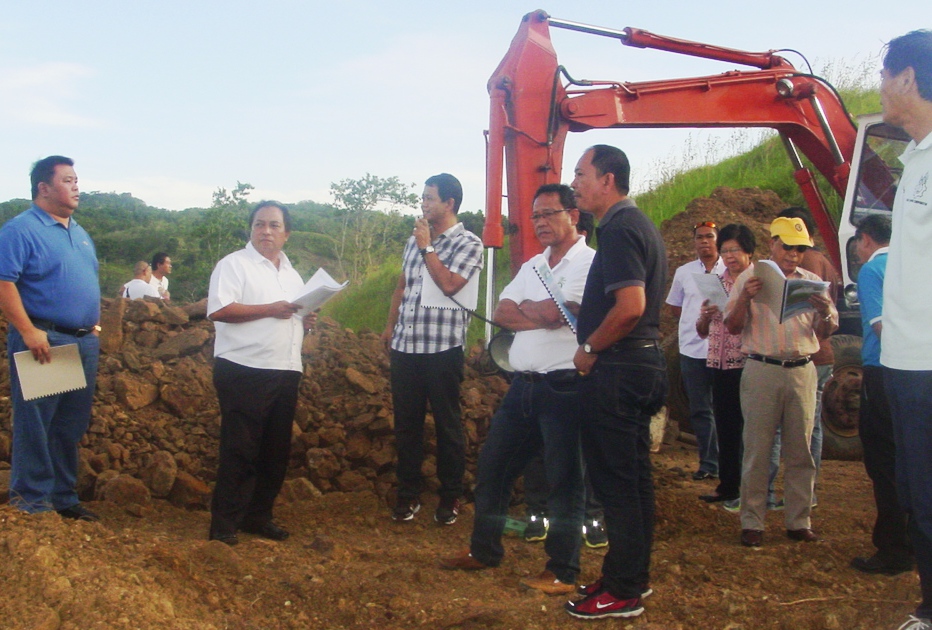 The Bohol Chronicle
November 20, 2011
As scheduled, Governor Edgar Chatto yesterday led members of the Provincial Development Council (PDC) in the on-site inspection of the proposed P7-billion Bohol Northeasthern Basin Multi-Purpose Dam (Bohol Irrigation Project Stage 3) in a public land in barangay Concepcion, Danao.
Chatto, as chair of PDC, will schedule a meeting solely intended to discuss the details of the project.
The site inspection was an offshoot of the presentation of former regional manager of the Tagbilaran-based National Irrigation Administration (NIA)-7, Engr. Modesto Membreve, in the last meeting of the PDC Executive Committee last month.
At the verge of his transfer to Region 13 (Caraga) in the middle of October, Membreve had been consistently pushing for the project with the support of Second District Rep. Erico Aumentado.
Aumentado and Membreve had already presented the project before the PDC-Execomto seek endorsement for the multi-purpose dam's US$5-million feasibility study and detailed engineering design proposed for funding through Official Development Assistance (ODA) from the KOICA or any other funding agency.
The project's implementation cost is estimated to reach US$ 177 million or a total cost of US$ 182 million or P7 billion including the feasibility study.
The project was actually initiated by Aumentado in an effort to maintain the rice self-sufficiency of Bohol and brace for increased demand of power supply in 10 years.
Aumentado said it is in consonance with the advocacy of President Benigno Aquino III on Public-Private Partnership projects, wherein NIA-7 will develop the irrigation component while Sun West Corporation takes charge of the hydro power facility.
Sun West Corporation is represented in the deal by its president, Silvestre Natividad, and technical consultant, Michael Cañete.
After the feasibility study and drafting of the detailed engineering design, it would take at least 15 years to construct the multi-purpose dam, Aumentado added.
It is designed to "provide dependable irrigation water supply in the Northeastern part of Bohol and consequently to generate cheaper and renewable source of energy to augment the local electric power needs", he said.
Mayors Thomas Louis Gonzaga of Danao, Eutiquio Bernales of Ubay and Jacinto Narraga of San Isidro welcome the project as potential economic driver in their towns.
The project will provide irrigation services for about 21,000 farmers cultivating 19,017.28 hectares of rice lands—1,353.95 hectares in Danao, 3,520.92 hectares in San Miguel, 5,945.59 hectares inTrinidad, 1,770.50 hectares in Dagohoy, 1,896.12 hectares in Bien Unido, and 4,530.20 hectares in Ubay.
Its main reservoir will be at Wahig River with four supplementary reservoirs and will be capable of storing 78.5 MCM backed up with a 52.5 square kilometers watershed, and 10-20 megawatts of hydroelectric power can be developed in the project.
"It will be a zoned earth-fill dam. The main dam will be 100 meters in height and 1,200 meters in width. The four supplementary dams will have 60 meters average height and 400-meter average width. Its conduit will be a reinforced concrete barrel, and will have an Ungated Side Channel type of spillway," Membreve said.
Its irrigation canal and structures include a main canal of 37.85 kilometers, laterals-185.50 km., drainage canal-15.60 km., canal structures-350 units, and an 8.95-km tunnel.
The initial investigations conducted by NIA-Region 7 Engineering and Operations Division found out that the "proposed project is technically feasible and economically viable. However, a more extensive and in-depth study should be taken to validate its feasibility". Thus, Membreve and Aumentado sought PDC endorsement of the proposed conduct of a feasibility study and detailed engineering design of the project to be funded through a grant from KOICA.