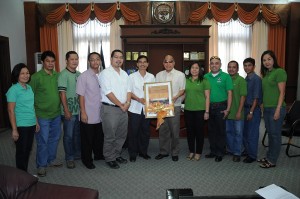 A day before 2nd District Rep. Erico Aumentado stepped down from Capitol last week, the Philippine Australian Alumni Association, Inc. (PA3i)–Bohol Chapter squeezed in his busy schedule just to hand a huge symbol of gratitude for the opportunity to a post-graduate scholarship in Australia.
PA3i–Bohol Chapter commended Aumentado for having been an "outstanding leader who dedicated all his energy and gave his all-out support for the advancement of our professional and career development, both individually and collectively, by sending us to post-graduate scholarships in Australia".
"As we bid you farewell, we wish you more power, and hope for you all the best as you take on a new (albeit returning) task that is as challenging and pivotal as that through which you have led the Provincial Government of Bohol during the past nine years of your term as Provincial Governor. Thank you very much, from the bottom of our hearts," the graduates stated in the oversized certificate.
Camaraderie among the graduates saw the PA3i-Bohol Chapter gradually shaping up under the leadership of May Limbaga as president, Larry Pamugas as vice president, Maria Rowena Bongcaras as secretary, Jovencia Ganub as assistant secretary, Ma. Imelda Borromeo as treasurer, Angelus Sales as Auditor, and the PROs- -Marietta Macalolot, Aida Evangelista, Rosemarie Jumamoy.
Behind them are the advisers- -Romeo Teruel and Lawyer John Titus Vistal.
The group's strength also anchors on its other members as the groundwork in partaking what they got from the Australian training on paradigm management- -Judy Bedio, Teodesia Bernaldez, Senen Bojos, Richard Bompat Jr., Wilfredo Bueno, Moises Canete Jr., Marietta Corre, Leonida Daguro, Glicerio Doloritos, Eleno Evangelista, Ferdinand Marcrey Irig, Peter Retutal, Ma. Yvonne Rocolcol, and Licenio Tinampay. (AV)