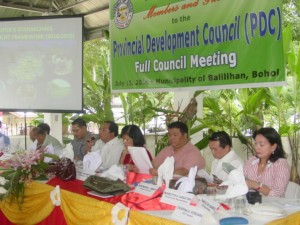 The Provincial Development Council Full Council was reconstituted during its first meeting in Del Carmen Weste, Balilihan, Bohol last July 15, 2010 under the Chatto-Lim administration. It was attended by Cong. Rene Relampagos of the 1st District, Cong. Erico Aumentado of the 2nd District, Cong. Arthur Yap of the 3rd District, Vice-Governor Concepcion Lim who is the SP Appropriations Committee Chair, Mr. Argeo Melisimo, Ms. Marietta Gasatan, and Engr. Panfilo Asares, all Private Sector Representatives to the RDC-7, Ms. Emilia Roslinda, NGO Representative, Hon. Rosemarie Imboy, LMP President, and Hon. Crispina Vergara, Liga ng mga Barangay President. Other members of the PDC Full Council who were present were 42 mayors, 12 NGO representatives and some SP Members present, namely, Hon. Abeleon Damalerio, Hon. Venzencio Aracamo and Hon. Cesar Tomas Lopez, all of the 1st District, Hon. Romulo Cepedoza of the 2nd District and Hon. Godofreda Tirol and Hon. Brigido Imboy of the 3rd District and PCL President, Hon. Ariel Lungay.
Cong. Aumentado added that there are vital Master Plans in his office for the information of the new administration, namely:
Bohol Agriculture Master Plan crafted and submitted to be funded by AusAid
Bohol Tourism Master Plan crafted by Bohol Pacific Consultant International
Panglao Island Master Plan crafted by Palafox &Associates
Bohol Tourism Road Improvement Project Listing & Study which the Congressman of Ist District of Bohol has requested for a thorough briefing
Integrated Water Resource Master Plan which covers all watershed of Bohol which is the basis for the study of ABS-CBN Bantay Kalikasan for the rehabilitation of Loay and Abatan Rivers
Development of Wahig-Pamacsalan Watershed area by the Asian Development Bank. All of these are covered by the necessary master plan which could serve as a road map for the development of Bohol
Cong. Relampagos requested the PPDC to give hard copies of the aforementioned Master Plans for his information and study. Atty. John Vistal, PDC Secretariat Head, informed that all Mayors will be provided with CDs of the said plans for their study/reference.
Relative to the several Master Plans that Cong. Aumentado mentioned, Cong. Arthur Yap opened that there is a need to review on all the bases of the master plans since there is a significant number of mayors (22) and two congressmen who are newly elected. Likewise, they need to study the same and make sure that all the resolutions filed must be coherent and consistent with each other.
Atty. Vistal presented to the Council the consolidated list of Provincial Development Council Members for reconstitution (2010-2013) which includes 15 members of the Executive Committee, 48 mayors and 23 non-government organizations. Cong. Rene Relampagos then moved for the approval and endorsement to the Sangguniang Panlalawigan the reconstitution of both the Provincial Executive Committee of the PDC and the PDC in full membership which was duly seconded by Cong. Erico B. Aumentado.
The PDC Executive Committee is composed of the following:
Gov. Edgardo M. Chatto, Chairman
Vice-Gov. Concepcion O. Lim
Cong. Rene L. Relampagos, 1st District, Province of Bohol
Cong. Erico B. Aumentado, 2nd District, Province of Bohol
Cong. Arthur C. Yap, 3rd District, Province of Bohol
Hon. Crispina A. Vergara, Liga ng mga Barangay
Mayor Rosemarie L. Imboy, LMP – Bohol
Mr. Argeo J. Melisimo, Private Sector Representative to RDC-7
Engr. Panfilo M. Asares, Private Sector Representative to RDC-7
Ms. Marietta S. Gasatan, Private Sector Representative to RDC-7
Ms. Emilia M Roslinda, NGO Representative
Engr. Modesto G. Membreve, NIA-7 Regional Manager
Engr. Isabel S. Torralba, OIC, Bohol 1st Engineering District
Engr. Gregorio E. Sayson, Bohol 2nd Engineering District
Engr. Edilberto R. Ativo, Bohol 3rd Engineering District
Atty. Vistal then presented to the PDC Full Council the Bohol's overarching development framework for 2010-2015 (HEAT Bohol, LIFE HELPS) which was the output during the strategic planning workshop of the heads of the provincial government offices last July 7-9, 2010. The amended version of the vision and mission of the province of Bohol are as follows:
Vision :Bohol is a prime eco-cultural tourism destination and a strong, balanced agro-industrial province, with a well-educated, God–loving and law-abiding citizenry, proud of their cultural heritage, enjoying a state of well-being and committed to sound environmental management.
Mission :To enrich Bohol's social, economic, cultural, political and environmental resources through good governance and effective partnerships with stakeholders for increased global competitiveness
On motion of Cong. Erico B. Aumentado, the Bohol Overarching Development Framework (2010-2015) was unanimously approved by the PDC Full Council.