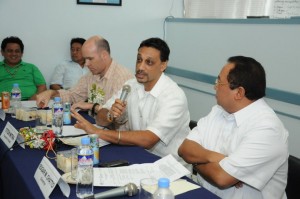 Three top ranking  officials of the Australian Agency for International Development (AusAID) visited Bohol last 26 August 2010.  They were Mr. Titon Mitra, Minister Counsellor of AusAid, Mr. Andrew Egan, Counsellor for Economic Growth and Ms. Christine Bantug, Senior Program Manager.   The welcome party was headed by no less than Governor Edgar Chatto and other provincial officials.
During the Project Briefing and Updates at the Juanito Cambangay Conference Room at the PPDO,  Governor Chatto presented to the AusAID team the Bohol's Development Framework under HEAT through LIFE HELPS strategies.  On the other hand, Road Sector Committee Co-Chairperson, Atty. John Titus Vistal, gave a powerpoint presentation of  "Optimizing PRMF and other AusAID Assistance for Bohol's Development. The Provincial Road Management Facility (PRMF) is the latest AusAID program implemented in Bohol last November 2009.
Ms. Rosalinda Paredes, PRMF Provincial Coordinator, helped Governor Chatto and Atty. Vistal answer and clarify issues or concerns from the AusAID officials about their programs and projects in Bohol.  Minister Counsellor Mitra commended the Provincial Government for its performance as well as its setting of high targets in managing AusAID programs and projects.  Both Counsellor Egan and Ms. Bantug likewise gave positive remarks for the provincial leadership.
Participants to the Project Briefing were the Sangguniang Panlalawigan Members headed by Vice Governor Concepcion Lim who gave the Welcome Remarks, Road Sector Committee Members composed mostly of department heads from the capitol, Representatives of AusAID Projects in Bohol and Governor Chatto's executive assistants and cluster coordinators.
The AusAID officials accompanied by the provincial officials then proceeded to the Governor's Mansion to view the AusAID Project Exhibits and Displays.  Meanwhile, an on-going PRMF Workshop on PRSPMR Review and Action Planning for PRNDP Updating was cut short for messages from the AusAID officials and the governor.
While having lunch at the Mansion, guests were entertained by a 15-minute presentation from  the "Cultural Collective" of Maribojoc, organized with assistance from AusAID in a PACAP project called BLESSED Maribojoc.  Mr. Oscar Valles and Engr. Yanie Chiu, Municipal Administrator and Municipal Planning Officer of Maribojoc, gave a 10-minute briefing on the Cultural Collective and e-TRACS implementation in Maribojoc, pilot municipality for the AusAID Project implemented in Bohol called Local Governance Development Project (LGDP).
The AusAID officials together with the PRMF Provincial Office Team and Road Sector Committee proceeded to the Municipality of San Isidro to view the road works, visit the bunkhouse and interact with the people during the Monthly Coordination Meeting at the Barangay Caimbang public market.
The AusAID officials left Tagbilaran City in the afternoon of August 26th.
Meanwhile, Governor Chatto sent letters of appreciation to PNP Provincial Director Rodolfo Llorca, Brigadier General Allan Luga of 802nd Brigade (PA) and 1st Lieutenant Elmer Namocat of 4th Special Forces Company (PA) for their cooperation and assistance in providing covert and convoy security operation during the said visit.