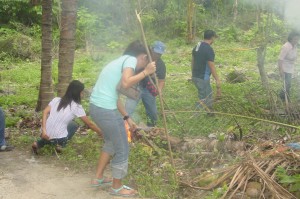 Thousands of government employees, students and private citizens joined the first Bohol Clean-Up versus Dengue and Other Diseases last 17 September 2010 from 1:30 p.m. to 6:00 p.m. in Barangays Bool and Cogon of Tagbilaran City.
Owing to the alarming level of dengue cases not only in Bohol but also in the whole country, Governor Edgar Chatto urged all sectors and cross sections of the society to unite and join the launching of the Bohol Clean-Up versus Dengue and Other Diseases.
The clean-up drive aimed to search and destroy the mosquito breeding places by cleaning all possible breeding places where stagnant water can accumulate, cleaning banana plants and their premises from dried leaves, covering the water receptacles (drums, jars, pails, etc.) and observing proper environmental sanitation.
The provincial government employees also distributed leaflets on the FOURMULA (4-S) which urges people to Search and Destroy, do Self-Protection Measures, Seek Early Consultation, and Say No to Indiscriminate Fogging.
On the following day, the provincial government officials and employees also joined this month's celebration of the International Coastal Clean-Up in various beaches and coastal areas in Bohol. Presidential Proclamation No. 470, S. 2003 declares September as the International Coastal Clean-Up Month. Various debris resulting from shoreline or recreational activities, ocean/waterway activities,smoking or dumping activities and other items of local concern were collected during the synchronized worldwide clean-up.