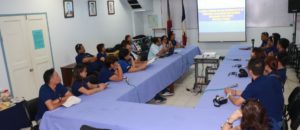 A writeshop and benchmarking activity was conducted by the Cebu Provincial Planning and Development Office (PPDO) headed by Architect Florentino Nimor, Jr. as a step in completing the Cebu Provincial Development Physical Framework Plan (PDPFP) on November 8 – 11, 2016 in Panglao, Bohol.
PPDO Cebu composed of about twenty employees first made a courtesy call to Governor Edgar Chatto on the first day to get his insights on Bohol Development.
After the courtesy call, the group proceeded to PPDO Bohol for a technical exchange with the sector heads and key officers of the said office. In the absence of Atty. John Titus Vistal, Provincial Planning and Development Coordinator, who was in Manila for an official business, Engr. Hermilo Arcaya, Deputy Head of PPDO Bohol, welcomed the visitors and introduced the Bohol team.
Mr. Peter Retutal, Sector Head of Development Administration, presented the processes of PDPFP preparation and formulation, organizational structure of PPDO as well as best practices in terms of development planning and programming. He also presented the upcoming major projects of the province.
Engr. Arcaya entertained questions regarding the Provincial Monitoring and Evaluation Information System (ProMEIS), it's organizational structure, as well as it's impacts to the monitoring process. He explained that the system is compliant to the requirements of the various agencies and projects that needs to access reports with regards to the Programs, Projects and Activities (PPAs) of the Provincial Government of Bohol (PGBh).
Engr. Wilfredo S. Bueno, Geographic Information System (GIS) Unit Head of PPDO Bohol, further explained to the benchmarkers about pertinent requirements of establishing systems such as the ProMEIS, and other matters related to information technology. He also discussed on the possible avenues of technology sharing, the need to network with data providers to ease the data collection process, and the importance of online systems as a platform for efficient data capture and sharing.
After the presentation and open forum, the visiting group dispersed into smaller groups with respect to their interests and visited PPDO-Bohol's development sectors/units, witnessing various demonstrations to systems and product documents, and engaged to further in-depth discussions with the PPDO-Bohol Sector Heads.
While the PPDO Cebu gained inspiration and insights on the PDPFP preparation and formulation from the technical exchange, PPDO Bohol's Sector Heads were also able to learn some of their best practices.
Participants of the PPDO Cebu benchmarking activity were Peter Polestico, Mardonia Lauron, Jonie Montenegro, Nerces Bispo, Jennifer Nacario, John Norris Abayata, Thelma Arañas, Estelle Marie Villagonzalo, Shemer Lev Pagusara, June Ilyn Terado, Francis Marabulas, Exactly Tequillo, Narciso Pilapil, Franz Harold Abangan, Chona Quijano and Primitivo Dabon. Ms. Marites Palomares of PPDO Cebu coordinated the activity.