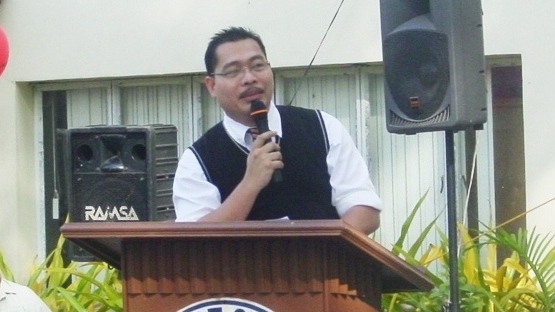 April 4, 2011 was a red-letter day for the Provincial Planning and Development Office (PPDO).  Being the first Monday of the month, it was on this day that the Convocation Program was held with PPDO as the lead office.  Atty. John Titus Vistal delivered the PPDO 2010 Accomplishment Report before the elective officials, department heads and employees of the Capitol.

The PPDO personnel rendered three presentations for the intermission numbers.  Selected personnel performed the California Dreamin' by The Mamas and the Papas, which was immediately followed by a vocal solo by PPDC Vistal with the famous Bruno Mars' song, Just the Way You are.  While Atty. Vistal was singing, Mr. Leo Pinat did an artistic sketch  where the latter threw a handful of silver dust on the artistic sketch that instantly formed the profile of Governor Edgar Chatto right after Atty. Vistal finished his song.
The last presentation of the PPDO personnel was an interpretive hand pantomime based on the song What a Wonderful World by Louis Armstrong.  Using their hands, the performers gave the song an environment-themed interpretation by giving life to the images representing things in real life.  The PPDO presentation reminded everyone that despite all the sham, drudgery and broken dreams, it is still a beautiful world, as the Desiderata goes.
After the hand pantomime presentation, Provincial Health Officer, Dr. Reymoses Cabagnot, presented his the Department of Health's (DOH) information campaign on "Iligtas sa Tigdas ang Pinas".  He stressed that children aged 9 months old to 7 years and 11 months would be given by the DOH with the measles vaccine during the month of April.
Recipients of the Gov. Chatto Model Employees of the Month Award were the following employees:  Romulo Garcia (OPV), Nestor Visaya (PBMO), Ferdinand Ligan (PAccO), Apolinario Dag-um (PAO), Ma. Trinidad Caseñas (PPDO), Eugenio Dismas (PMPO), Rogelio Remolador (PGSO), Segundina Calamba (PAsO) and Ma. Praxedes Mahumas (HRMDO).  The awardees received one sack of Ganador Rice and a Certificate of Award.
The last but not the least part of the program was the Governor's Message.  Gov. Chatto extolled the leadership of Atty. Vistal for leading the PPDO and for its commendable accomplishments for the year 2010.  He also appreciated the talents presented by the PPDO personnel, especially the environmentally themed hand pantomime.  He exhorted the provincial employees to show unity and camaraderie in rendering basic services to the people.
HIGHLIGHTS OF PPDO ACCOMPLISMENTS
FOR CALENDAR YEAR 2010
I. Ensuring A Smooth Transition into the New Administration
and Continuity of Worthy Programs and Projects
Preparation of the Provincial Transition Management (TMP) Plan (with full support from All PGBh Departments)
II. Advocacy for the HEAT Bohol Development Agenda
and LIFE HELPS Development Strategies
Sustained advocacy and information dissemination across stakeholder groups and sectoral assemblies
Support Development Activities, such as the Bohol Prosperity Fair 2010, to generate support and commitment from funding agencies for the implementation of Prosperity Programs and Projects
III. Medium-Term Development Planning
Provincial Development and Physical Framework Plan (PDPFP) 2010-2015 (with Stakeholder Participation across all Development Sectors, and Necessary Support from the Provincial Development Council and Sangguniang Panlalawigan)
Initial Activities for the Executive-Legislative Agenda (ELA) 2011-2013
IV. Annual Development Planning and Investment Programming
CY 2011 Provincial Annual Development Plan and Annual Investment Program
V. Technical Support to PGBh and ODA-Assisted Programs
Technical Support to the AusAID-funded Provincial Roads Management Facility (PRMF), by:
Spearheading meetings and activities of the Roads Sector Committee
Facilitating meetings and activities of the PDC Infrastructure Committee
Ensuring submission of Deliverables under Incentive Targets for Roads Sector
Planning, Multi-Year Planning and Budgeting, and Monitoring and Evaluation
Facilitating Visits of Australian Government and AusAID VIPs and Dignitaries
Assisting in related Capacity Development initiatives for the PGBh
Technical Support in the implementation of Other Special Programs/Projects:
Local Governance Support Program for Local Economic Development (LGSP-LED)
Realising DReAMS (Delivery of Resources and Access to Municipal Services) Project
GREAT Women Project
Various other ODA-Assisted Programs and Projects implemented by different agencies (whether Provincial or National)
VI. Technical Assistance to City & Municipal LGUs, Sectoral Groups and Other Stakeholders
Assistance in the following activities:
Updating of the Municipal Socio-Economic Profile (48)
Preparation of Comprehensive Land Use Plans (CLUPs) (9)
Preparation of Comprehensive Development Plan (CPD) and Executive-Legislative Agenda (ELA) (16)
Preparation and packaging of Project Proposals (48)
Preparation  of maps (48)
VII. Technical and Secretariat Support to the Provincial Development Council (PDC)
Facilitation, Documentation and Other Secretariat Functions (Full Council and Executive Committee Meetings)
VIII. Provincial Socio-Economic Database and Profiling Using Spatial Planning
Updating of the Provincial Profile, Sectoral Socio-economic Profiles, and Poverty Database
Operation of Geographic Information System (GIS) Unit and conduct of the following:
Thematic map preparation
Provincial and Municipal base maps of updating
Municipal facilities base maps preparation
Field validation
IX. Monitoring and Evaluation
CY 2009 Provincial Annual Report
Provincial Monitoring and Evaluation System (ProMES)
Monitoring and evaluation of development programs and projects
X. Maintaining Internet Presence in Support of the PGBh Development Framework
Maintenance of the PPDO Website
Web-based data retrieval application
Utilizing own data capture